Designing a house can be stressful, but it doesn't have to be.
At Tom Hunt Residential Designs, Inc. we strive to make home design an enjoyable and relaxed process that gives you the tools you need to begin the next step of building your home and leaves you with a smile on your face.
Whether you are an individual, a contractor, or a production builder, we have experience working on residential projects of all sizes. And with over 40 years experience in residential design on the Gulf Coast, we have the expertise needed to turn your concept into a reality at an affordable price.
The Process
It all starts with an idea. As residential designers we work with you to develop a plan that is right for you. You can choose from our collection of stock plans to start from or we can sketch out your custom ideas.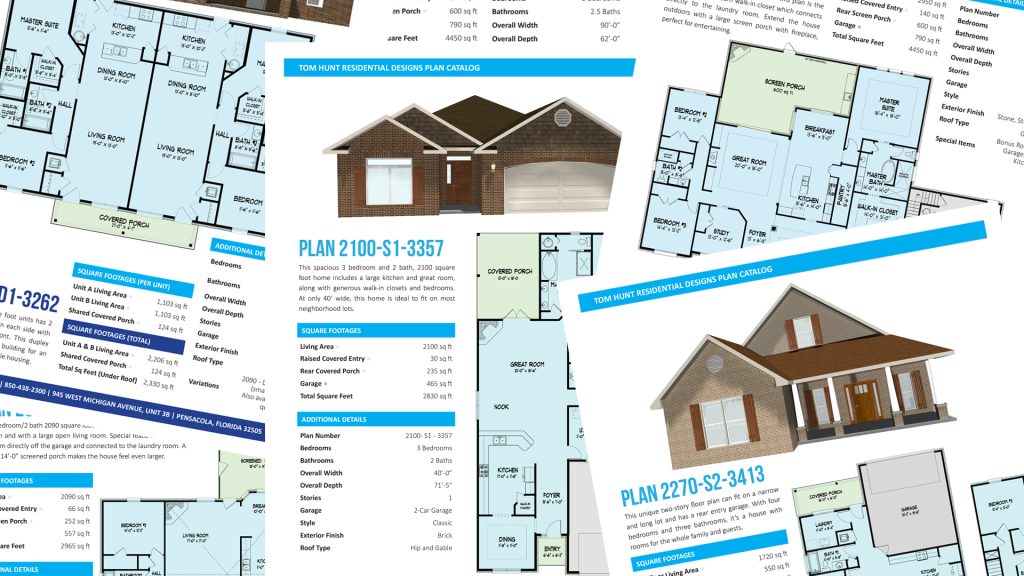 Initial Meeting
We typically like to start the design process with an initial meeting at our office. At this initial meeting we will begin by discussing your design priorities, preferred style, lot size, and other items that could impact the design of your home. This helps us get to know you and your project and helps us to design a home that meets your specific needs. At this meeting we will also walk you through our design process in more detail and answer any questions you may have.
At the end of this meeting we should be able to provide you a cost estimate for plan design. Our standard cost is based on the approximate square footage under roof* and includes the cost of structural engineering, unless otherwise noted. Our cost per sq ft rate varies depending on project specs and will be discussed at the initial meeting.
*Under Roof Square Footage includes living area, garages, and porches.
What should I bring to our initial meeting?
The more information you can provide at the initial meeting, the better. Designing a home is like putting together a puzzle, and first we need to collect all the pieces. Helpful items to bring include a survey (or dimensions) of your lot (if you already have one), design requirements for homeowners association (if applicable), examples of styles or layouts that you like, etc.
Are there other options other than an in-person meeting to start the process?
While we've found that an in-person meeting is a great way to start the process, we are flexible and can also meet remotely via Zoom or completely over the phone or email.
If you decide to use us for your home design needs, we would then fill out a Customer Order for Plans which details the agreed upon process and pricing. We typically ask for a 1/3 deposit to begin, though this may vary depending on specific projects.
Preliminary Phase 1
After an initial deposit, we will draw a preliminary design based on the information discussed at the initial meeting that includes a floor plan and front elevation. We will then email you a PDF of the preliminary design for you to review. We can also print out physical copies (to scale) if you prefer to review the plans that way.
Once you have review the plans, then let us know of any changes, corrections, or additions which may be needed. A second preliminary will then be designed. This back and forth process continues until the plans are satisfactory to the customers specifications.
Preliminary Phase 2
Once the floor plan and front elevation designs have been fine-tuned and reflect what the customer intends to build, standard electrical (electrical required for permitting) is added. Standard electrical can be customized, if desired, at the customer's request. At this point side and rear elevations are also provided.
At the conclusion of Preliminary Phase 2, most builders can get enough information from the plans that they can provide an approximate quote for construction. At this point we also typically ask for the second 1/3 payment.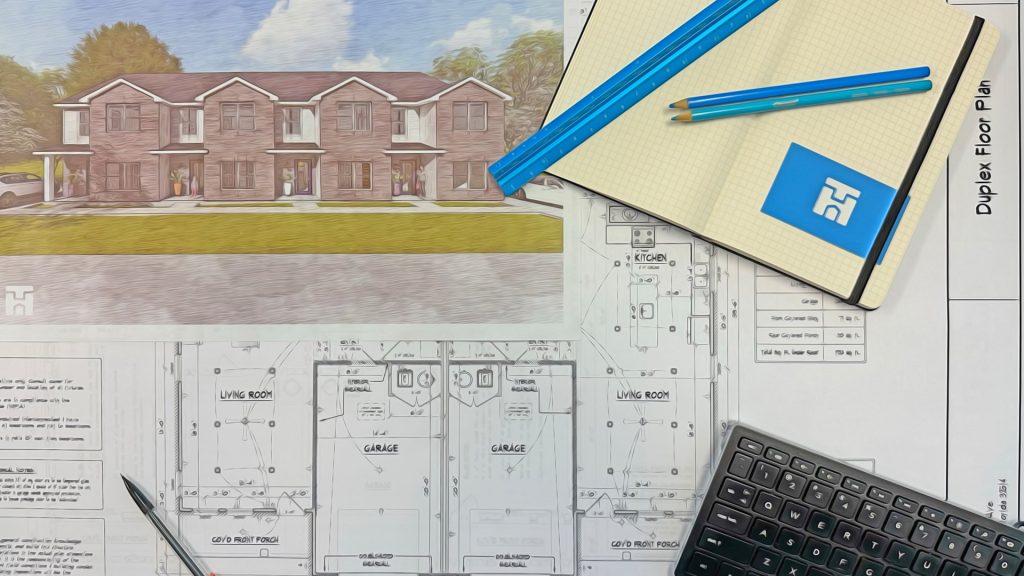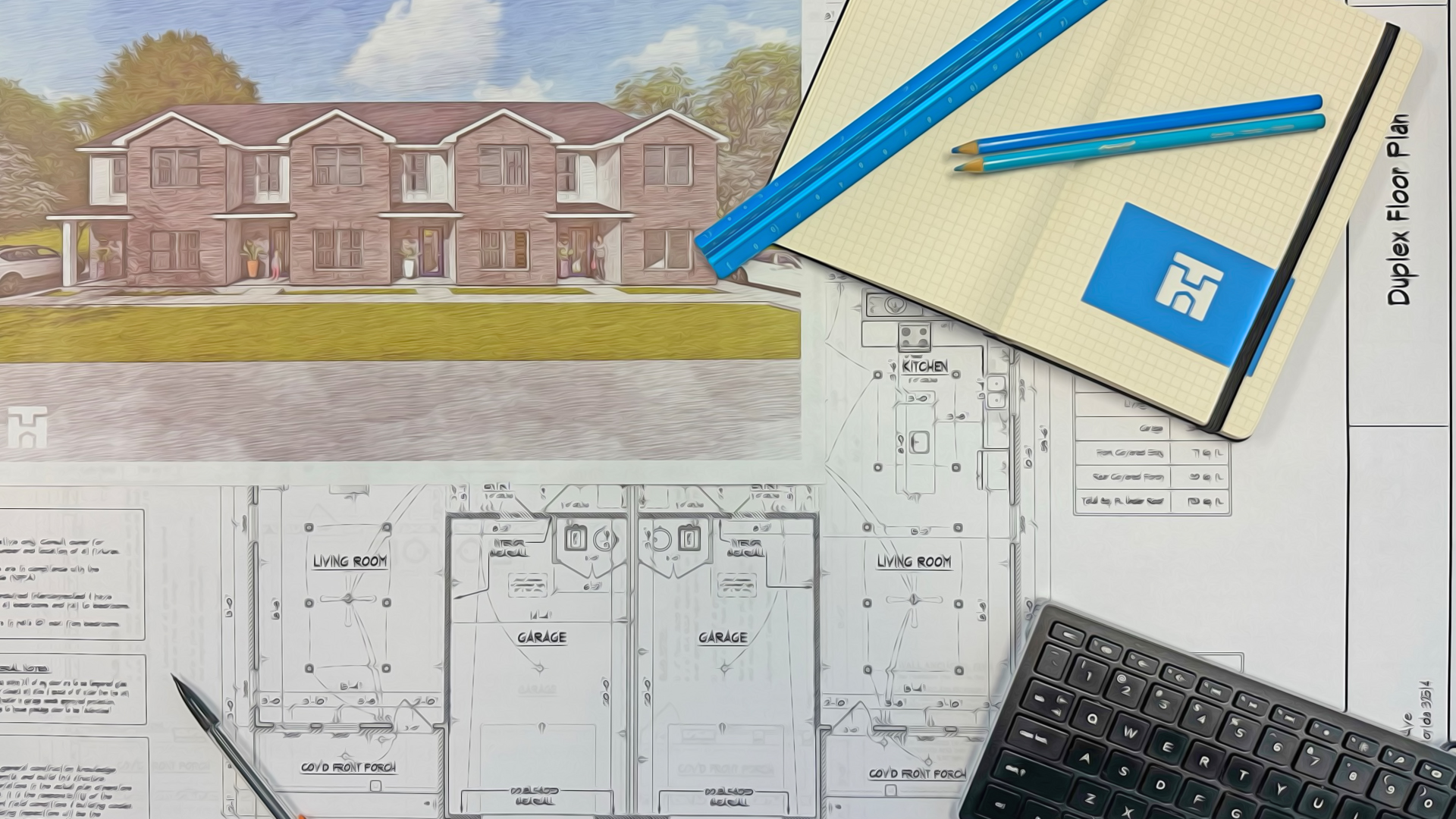 Working Drawings
Once the preliminary designs have been approved and you have communicated that your plans should be completed, the designer and structural engineer will commence on the working drawings. A truss layout which will indicate any needed loaded bearing walls (provided by a local truss company) may be required before the structural engineer can begin their work.
Once the working drawings have been completed, the customer will receive a limited number of printed sets of the final drawings (typically no more than 8), as well as a digital PDF copy of the plans. Depending on the specific county requirements either physically or digitally sealed sets (by the structural engineer) will be provided for permitting purposes. At plan completion the fee approximated at the beginning of the process will be adjusted to reflect the actual square footage under roof. The balance of the final adjusted fee is due when the plans are completed and picked up.
What is Included
We provide the majority of items needed for permitting including:
1) Elevations (Front, Left, Right, and Rear)
2) Floor Plan with standard electrical layout
3) Foundation Plan
4) Engineering Detail Sheets with Engineers Seal
5) Site Plan (shows location of structure within required setbacks)
6) Truss Layout (provided by truss company of customer's choice)
Extra Services Available: (May Be Additional Cost)
[ ] Energy Sheets (provided by King Energy Consultants)
[ ] Additional Drawings for HOA Approval (landscape plan, etc)
[ ] Exterior 3D Rendering
[ ] Interior 3D Rendering(s)
[ ] Sales Sheet
Items not provided (more easily provided by others)
– Product Approval Numbers
– Preferred Termite Treatment
– Method of Opening Protection
Level of Detail
The primary level of detail included in our plans is that which is needed to meet the requirements of permitting. A secondary level of detail can also be included, which assists the builder in pricing and building the structure.